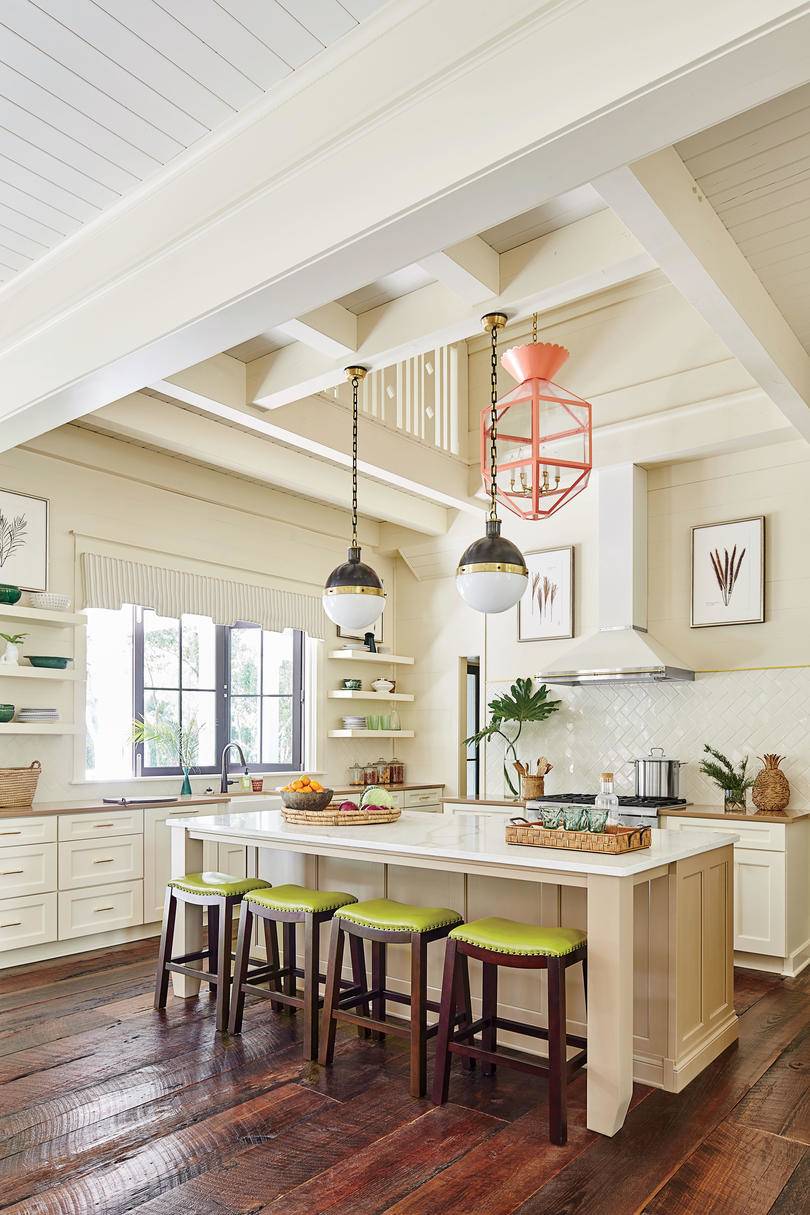 Our Dream Beach House: Step Inside the 2017 Southern Living Idea House
If you imagine a Southern Living beach home, you probably envision a pastel-colored, stilt-supported, porch-wrapped house resting between a sandy, panhandle-shaped beach and a blacktop highway. Surprise! Instead, we headed north and as far east as we could go (off the coastline, actually) to Bald Head Island, North Carolina, a car-free, accessible-only-by-boat barrier island located about 35 miles south of Wilmington, North Carolina, and 70 miles north of Myrtle Beach, South Carolina. The Cape Fear River borders it to the west and the Atlantic Ocean to the east. Bald Head's conservation ethos—nearly 10,000 of its 12,000 acres remain in a preservation easement—shapes a more organic "island style." The homes may still be surrounded by porches, but they rest quietly on sand dunes or beneath the maritime forest canopy. Don't count on rows of condominiums or reliable Wi-Fi. Bald Head is a real retreat.
Enchanted by the unplugged lifestyle, we paired three Southerners—architect Eric Moser of Moser Design Group, designer Lindsey Coral Harper of LCH Interiors, and builder Jeff Sanderson of Whitney Blair Custom Homes—with similar visions to build an authentic Carolina coastal getaway. "I wanted to fit a comfortable house in this landscape so it felt like it had been here forever," says Moser. Harper's vision: "The interiors should nod to the locale and be light and comfortable—with a bit of beachy cheekiness." Step inside our home to see how the duo balanced livable and lively ideas.
Buy the house plans for the Islander Cottage (SL-1951) here.
For a list of all the home's furnishings, download the Southern Living Idea House app in iTunes.
"The chocolate-colored floors directed the home's warmer palette," says Harper. Bronze windows and doors that "look more expensive and command attention" line both sides of the living room. To keep the browns from falling flat, Harper splashed out with a fern-print sofa fabric. "It's not for the timid, but it carries the room," she says. The "big but relaxed" printed sofa sets the living area apart in the house's open floor plan. A traditional English roll arm frame by CR Laine checks the sofa's wildness. A bodacious green ottoman that's for "sitting or plopping feet," says Harper, balances the room's composition and grounds the corals. A sweep of vintage rattan and brass accessories completes the room's look.