FEBRUARY 27, 2018 / LUXURY LIFESTYLE
From the unexpected to new spins on the classics, we take a look at the latest flooring ideas and trends, from cork and wood to stone and carpets
LIKE THIS ARTICLE? SHARE IT!
Homeowners looking for remodeling inspiration or to increase the property value of their home with new floors now have options beyond rugs and carpets. Today, the choice of modern flooring materials and designs is seemingly endless. Here are our favorites for this year's best-dressed.
1. Eco-friendly cork
Cork underfoot is nothing new, but its association with 1970s bathrooms saw it fall from favor as an option. Today, however, as we become more mindful of the environmental impact of the things we bring into our homes, it is once again in vogue. Derived from cork trees in the Mediterranean, cork is biodegradable and renewable—the outer bark is the only part of the tree harvested, and it grows back and is ready for harvesting again every nine years.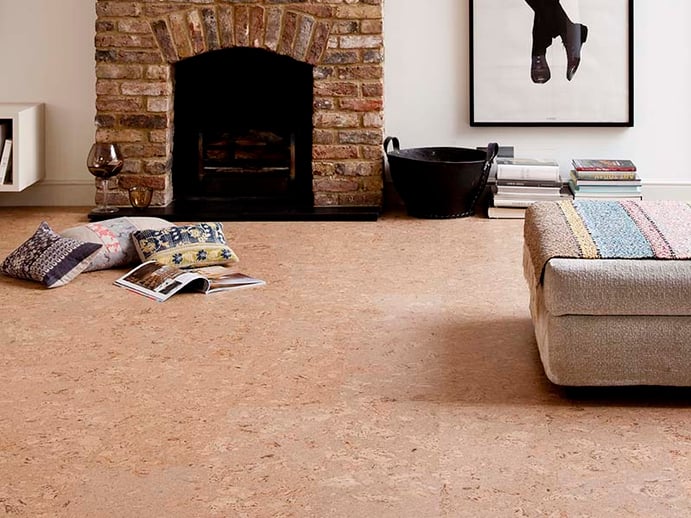 Portuguese manufacturer Granorte offers cork flooring in a range of colors, from pale grey and off-white to olive green or saffron yellow-orange. Still traditionally used in bathrooms, cork can look sophisticated in any living space, as well as being soft on the feet and naturally insulating.
2. Peerless parquet
Another traditional floor covering that's been given a new twist is parquet. The classic herringbone and chevron patterns are now among the many options available when it comes to arranging the wooden slats.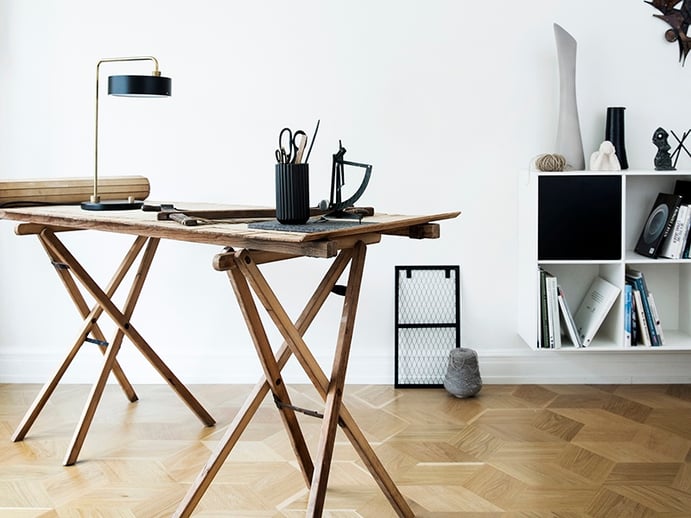 For example, the HexParket design from Junckers is made from solid oak and laid to form an intricate design that, thanks to its grain structure, creates the impression of a shaded geometric pattern.
3. Non-traditional tiling
Wood-style flooring today doesn't have to be made from actual wood. Porcelanosa creates ceramic tiles that emulate parquet and other traditional wood flooring, inspired by oak, maple, and beech. There are five patterns in the new Delaware collection, all combining the warmth of wood with the practicality of ceramic, yet each with a different texture.
The tiles have an enameled, silky touch but are non-reflective. The company can also produce the flooring in an anti-slip format, making it ideal for areas that are in contact with water, such as a terrace or around a pool.
4. New twists on wood and laminate
Wooden floors of all kinds continue to be popular, but for an unusual take on the finish take a look at Italy's I Vassalletti. The Tuscany-based company has been crafting beautiful flooring for more than 20 years—its marquetry showcases the impressive skills of local craftsman. The designs in its Contemporary Progènie collection include Leaf, where the wood is inlaid with a metallic leaf pattern, and the more abstract Doodle, where ancient oak features marble and metal inlays.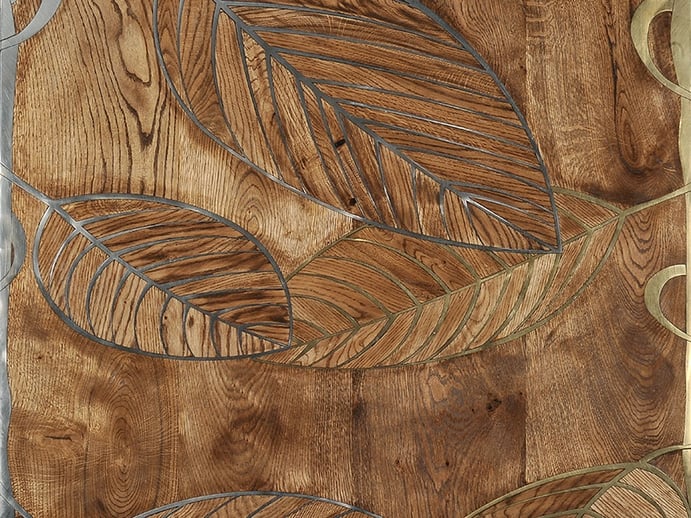 Another enduring flooring finish is Marmoleum. (The name comes from "marbleized linoleum.") The UK-based Forbo produces a range of eco-friendly linoleum, created from 97% natural, raw ingredients, including linseed oil and wood flour. The company recently launched Marmoleum Cocoa, which adds upcycled cocoa shells (from a Dutch chocolate producer) to its mix.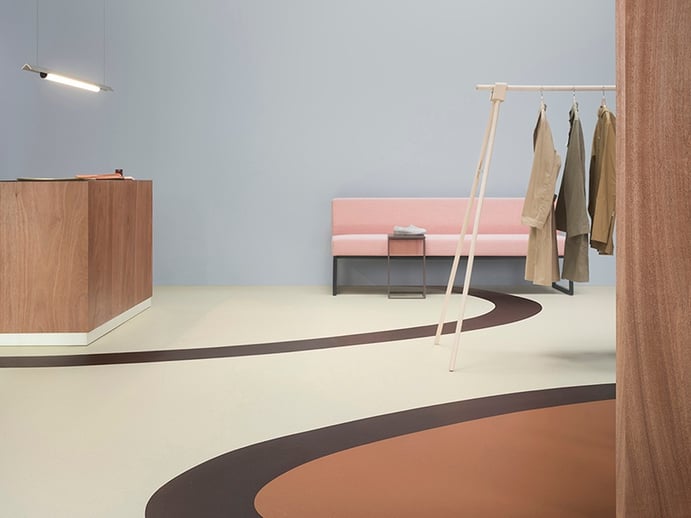 The shells give the material a rich, granular texture that makes it fresh and modern, while also providing "dirt-hiding properties." Color options include White Chocolate, Dark Chocolate, Milk Chocolate, Chocolate Blues, and Earl Grey Chocolate.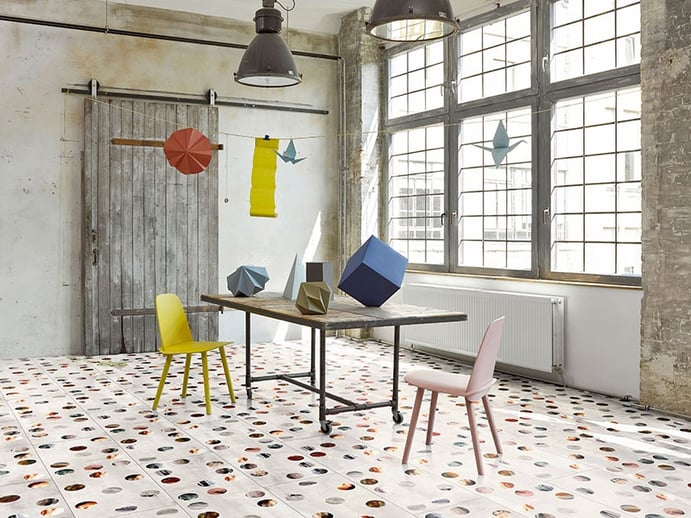 Somewhere between parquet and linoleum comes the new flooring from Alfredo Häberli. Argentina-born, Switzerland-based Häberli has designed furniture, lights, carpets, and accessories but recently unveiled his first laminate flooring. The Floor Fields collection for Parador includes neutral bases with inlay-style designs in bright colors, and a dark plank design with recessed hollows.
5. The strongest stone
Stone floors are durable and chic, with subtle variations in color and texture keeping the design world interested.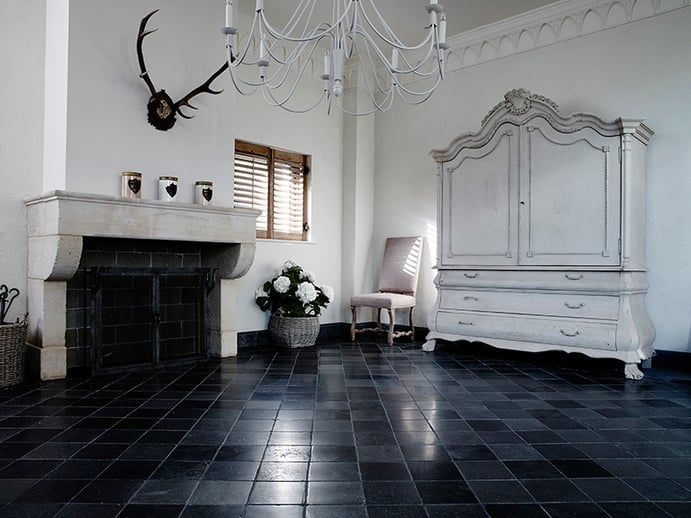 Lapicida has seen an uptake in the popularity of black stone—from limestone to slate and granite—and has a variety of designs to choose from. Nero Parquet, for example, is a distressed rectangle limestone, while the tones of the Belgian Mixed Distressed style range from deep black to blue-black and black-grey.
6. Finishing touches
Once you've decided on your floor finish, you may want to dress it. Vanderhurd's latest rug collection From The Point is based on a chevron pattern and includes highly textured woven rugs and carpets that combine both cut pile and flat weave.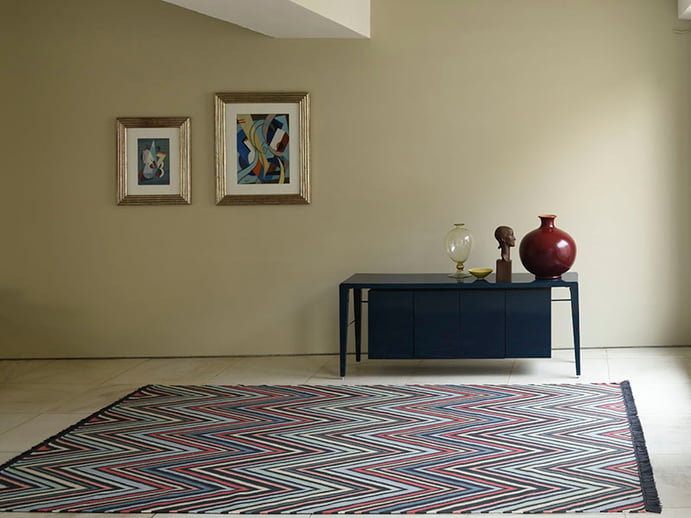 With showrooms in London and New York, the company's collection includes stark monochrome designs as well as muted colorways in greens, garnets, and slates.
Other colorful designs can be found at Rug'Society, which has a range of collections from which to choose, with designs that can be customized to your requirements.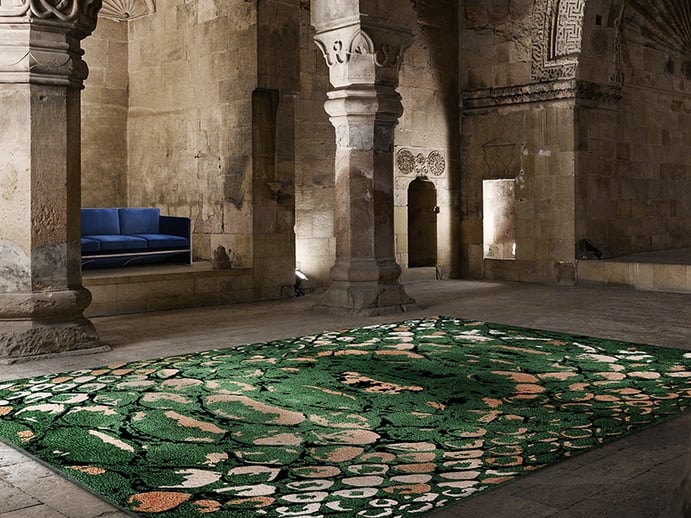 The hand-tufted Reptilus, for example, comes from the brand's Savage collection and is available in three sizes. As well as classic rectangle designs, Rug'Society offers circular and hexagonal options.